HAIKU PROJECTS AT
GUALALA ARTS CENTER
Haiku Writers of Gualala Arts
1982 - 3
Roger Verran started and lead the first Haiku Group at Gualala Arts Center. From those persons' haiku he guided the publishing of The Land of Six Seasons in 1983. Cover illustration was done by Gordon Carman and ink illustrations were by Margaret Gustus. Haiku writers were: Joahn Graver, Margaret Custus, Gwynne Hill, Irene Linford, Evelyn McGinn, Vince McGinn, Mary Mobert, Brendan Mobert, Fionna Perkins, Jane Reichhold, Roger Verran, and Shirley Verran.
1988
The group made a fold-out card with haiku for winter. It was printed at the ICO newspaper office. Authors were:Lisa Clark, Jim Clark (he did the ink drawing), Michey Chalfin,Penny Crosby, Mary Mobert, Jane Reichhold, Elaine Sherlund, and Caroline Sutherland,
1989
By 1989 the Haiku Writers of Gualala Arts was in the hands of Jane Reichhold. She published a companion anthology titled, The Land of Seven Realms, with haiku not only from the present group, but also with haiku and brush artwork from Point Arena Elementary School lead by Kate Dougherty. Photographs defining the realms were by Nicholas King and Werner Reichhold. Authors were: Connor Angwin, Becky Bishop, Jared Brooks, Erin Buechner, Michey Chalfin, Lisa Clark, Jim Clark, Clayton Cochran, Genevieve A. Cox, Penny Crosby, Willow Davis, Margaret De Prima, Rosamond Gumpert, Evelyn McGinn, Jane Reichhold, Werner Reichhold, Elaine Sherlund, K.J. Shockey, Caroline Sutherland, Vincent Tripi, Bambi Walker, Jennifer Wauson, and Johnathan Wheeler.
This book is still available at Gualala Arts Center
1990
Elaine Sherlund wrote and illustrated this 11 x 4.5 stapled booklet, A
Funbook, for school children. Copies were made for all the children in Point Arena Elementary and Horicon Schools. Members of Haiku Writers went to the classrooms to explain haiku, to give out the books, and listen to the children's haiku.

Poetry & Jazz
Japanese poetry, theater, music, sushi, sake & plum wine
Saturday, April 11, 2009 at 7:30 p.m.
Gualala Arts Center
Poetry & Jazz continues the theme of International Flavors by presenting a selection of Japan's many poetry forms. Dressed in kimono, Mariko Kitakubo of Tokyo will perform her own tanka, and Linda Galloway will recite Amelia Fielden's translations.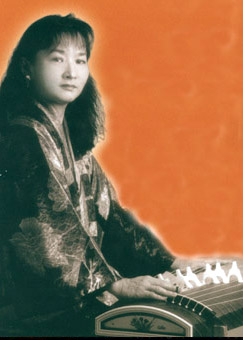 This pair will be accompanied on the koto (harp) by Shirley Muramoto and Karl Young on the shakuhachi (bamboo fl ute). Though both musicians are classically trained, they have a spirited interest in jazz that will be revealed in their instrumental duet composed by Karl
.

Renee Owen will read her haibun and be accompanied by her husband, Brian Owen, on the shakuhachi.
After intermission, the feature of the evening will be a butoh theater piece composed and danced by Don McLeod, master of a school for butoh training in Los Angeles, using the haiku of Basho as translated by Jane Reichhold.

In coordination with the Poetry & Jazz event, there will be an exhibit of works combining Japanese poetry and art in the Coleman Auditorium from April 1st through April 29, in celebration of April as Poetry Month.

Advance tickets are $20, and, if available, $5 more day of the performance and include sushi and plum wine, sake or tea for a completely Asian experience. Doors open at 7:00 p.m. Program begins at 7:30 p.m
Seventh Annual Redwood Coast Whale & Jazz Festival
Japanese Poetry & Art
Exhibit April 1 - April 29, 2009
Gualala Arts Center: Coleman Auditorium

---
In celebration of April as Poetry Month, there will be an exhibit of works combining poetry and art. For this year, Japanese art and poetry will be the focus, and the works will be one of the highlights of the Poetry & Jazz event on April 11, as one part of the Whale and Jazz Festival with the theme of International Flavor.
For this exhibit, works in any media which can be hung on the walls are accepted. Artists can combine Japanese motifs with any kind of poetry or Japanese poetry with any graphic. The exhibit will run from April 1 - 29 in the Coleman Auditorium.
The Japanese have a long history of combining their artwork with the written word. Because they employ brushes and ink for both methods of expression, it seems a natural combination. Very often screens were painted and dedicated to certain poems or the events about which the poem was written. The poem then became part of the painting in fact and spirit.
Later the shortness of the haiku made it even easier to add to a simple drawing. Often these were like sketches or even cartoon renditions of a few well-placed strokes. Though both the poem and the drawing seem simple, great worth and consideration was given to the combination of poem and graphic and their relationship on the page.
Haiga with Dee Taylor's collected Japanese work clothes
and Jane Reichhold's haiku
Though many of us no longer write with a brush or create our art with one, the tradition remains, and today there is a growing interest in Japanese haiga - a combination of haiku and any kind of graphic. With the advent of the computer, now almost anyone can now take a photo, and add a haiku to it. However, a small but dedicated group of artists are exploring different kinds of graphics and different ways of integrating the words and visuals. A web search of haiga may surprise you with the extent of haiga online.
In the four previous years of Gualala Arts poetry month art shows, several local artists, already adept with the brushes, have shown authentic haiga. Still there is lots of room for exploration and innovation and it is hoped that new ideas will inspire new works of art with a Japanese flair.
2008

Jane Reichhold made this 16 ft high hanging using muslin, beads and sea shells for her haiku
river
above the river
fog
that covered the end of the porch at Gualala Arts Center during the construction of the DePrima Terrace.